The Next-Generation Platform from NASCAR is a Step Forward for the Sport, Let's Explore Why
In the world of racing, even the smallest measurements of time and distance can make a huge difference. In high-pressure situations, every second counts and a mere fraction of a second could determine the ultimate champion. Factors such as track location, speed, and driver skill all play a role in competing at the highest level of the sport.
NASCAR shares similarities with other racing leagues, such as Formula 1, but sets itself apart by being more unpredictable. The race can change at any moment due to the aggressive racing style of NASCAR and the organization is under immense pressure. Not only does it strive to captivate audiences with thrilling events, but it also has a crucial role in ensuring the safety of its drivers and differentiating between drama and excessive aggression.
The organization must find a balance in keeping their fanbase interested by showcasing the rawness of the sport without letting things get out of control. While there have been brutal accidents in the past, the organization has managed to carve out a successful niche through consistent efforts and continual innovation.
We are discussing the Next-Gen platform of NASCAR, which has elevated the sport to new levels. Despite facing criticism from fans and certain drivers, the decision to implement these modern cars has been successful in terms of strength, safety, and cost.
NASCAR and its path-breaking Next-Gen innovation
Over the past 75 years, the Stock cars that have raced on oval tracks have undergone significant changes from the early days of bootleg racing. The old and rigid Buick and Hudson models that were once used on local dirt tracks have been replaced with the new and improved Next-Gen platform. These changes cannot be overlooked.
Excluding vehicles from the 1960s, it is clear that there are significant differences between the Chase cars and those currently in use. The Next-Gen platform represents NASCAR's bold step towards progress and advanced technology, with major updates to the body style, aerodynamics, and chassis. This decision was carefully considered by the organization.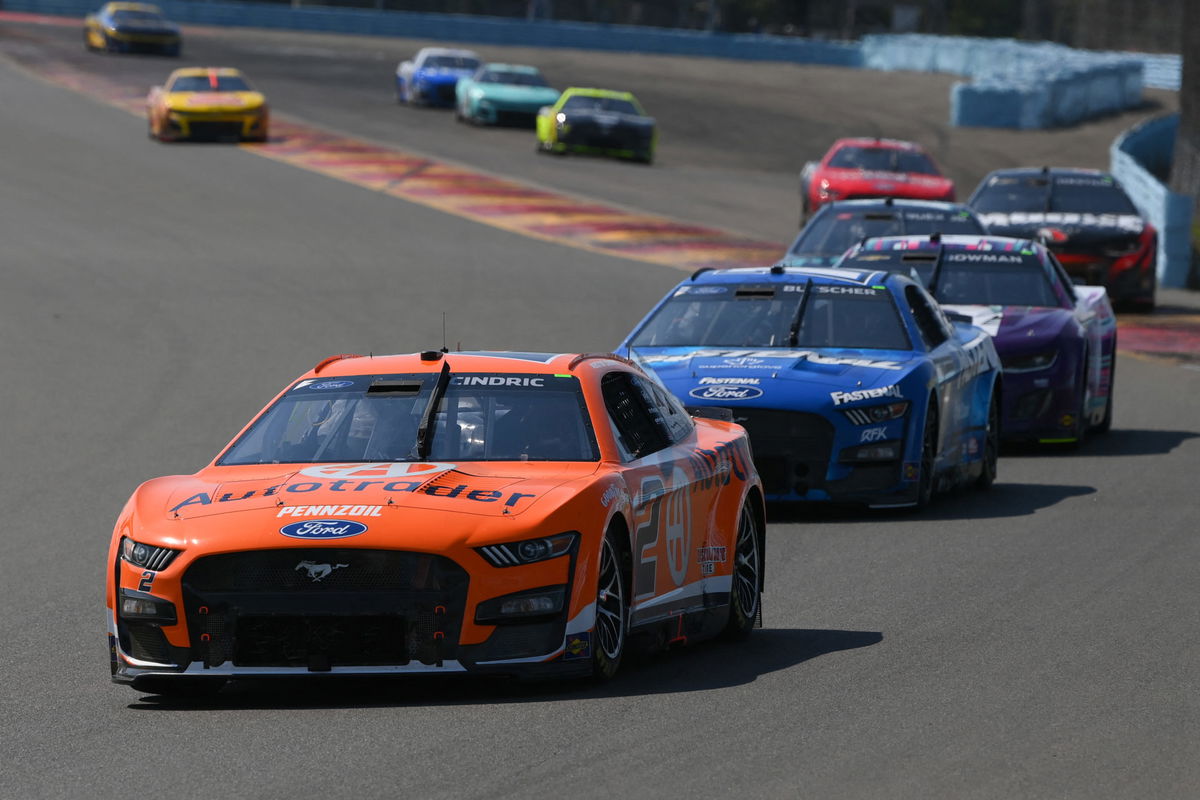 Although the concept for the new generation of cars was introduced in 2019, it wasn't until three years later that everything came to fruition. This was due to various factors, including the pandemic, which hindered the organization's plans. Finally, in 2022, the first season of racing with the Next-Gen racecar began. Despite facing challenges such as declining ratings and viewership, NASCAR's efforts to create a more level playing field through fair and equal equipment allowed for anyone to have a chance at winning, making the sport more fiercely competitive than ever before.
View this story: Ford's strategy secures victory at Talladega Superspeedway.
In 2022, Joey Logano from Team Penske won the title driving a #22 Ford. He outperformed the consistent Toyotas and fast Chevrolets, surpassing them to become the champion. In short, NASCAR's goal was to create a more competitive environment while ensuring driver safety by implementing a masterful strategy to level the playing field.
What are the differences between a Next-Gen car and its predecessor?
The brief response is that they are quite distinct. The Chevy Camaro ZL1, Ford Mustang, and Toyota's TRD Camry have all been redesigned to have a sleeker appearance, with the roof sloping down for a more Coupe-like style. Additionally, the Next-Gen cars feature symmetrical body fenders, resulting in improved aerodynamics and a significant decrease in drag coefficient.
Now, attention has shifted towards the driver's skills and the teams' preparations, creating a more level playing field. Next-Gen cars use composite material instead of sheet metal for their body panels, ensuring that collisions with walls or other cars do not affect performance. This makes the cars stronger and more dependable for handling the demands of the competition.
The lug nuts have undergone a significant transformation. In contrast to older cars, the new model only requires one lug nut for tire changes, making the process much simpler. As for the car's mechanical components, the Next-Gen platform includes an independent suspension system that allows drivers to feel more comfortable on different tracks. This feature also provides improved traction and rear-end feedback compared to previous models.
Similar to many contemporary high-performance vehicles, these cars also utilize a rack and pinion steering setup. The sequential transmission has evolved to incorporate electrical components that can transmit live data from the car, providing fans with a unique experience. The 7th generation model has undergone significant changes to its chassis and aerodynamics. The rear spoilers have been shortened by 1.5 inches (from 4 to 2.5), while the addition of advanced diffusers and hood louvers has improved the car's handling in traffic, allowing drivers to effectively navigate through turbulent air.
NASCAR has implemented systematic innovation to enhance the durability, competitiveness, and robustness of their racecars while maintaining safety as a top priority.
"NASCAR's strategic move and the resulting advantages in terms of performance and financial gains"
Since being established in the late 1940s, the National Association of Stock Car Auto Racing, known as NASCAR, has undergone numerous transformations. Although the structure and approach of the organization have evolved significantly, it is no longer the illegal racing series it used to be. Instead, NASCAR has become a lucrative multi-million dollar series with three main divisions and a plethora of iconic personalities and teams, captivating millions of fans worldwide with its intense style of racing.
NASCAR has successfully improved the affordability of their racing series by implementing the Next-Gen cars, which has also attracted new investors. The teams will now buy parts for these cars from single suppliers like Five Star Race Car Bodies, Dallara, McLaren, and others, making the process more efficient.
In addition, the implementation of these changes by the organization has made it possible for smaller teams to afford race cars, resulting in an increase in participation in NASCAR's "silly season" draw. Each race team will now be limited to 7 cars (car number), and cars cannot be replaced until they have been used in at least 3 races.
Now, coming to the performance numbers, the cars will have a maximum power of 670 horsepower depending on the nature of the track. With the 7th gen cars becoming more robust, they can now take on the superspeedway in Talladega, the tight technical road course in COTA, to even the shortest track in the sport. Moreover, the modular design of the car chassis means, easy-to-work equipment for teams and a safer car for the drivers.
Despite some controversy, the new racecars have not been immune to criticism. Following their crash testing in early 2019, there have been rumors circulating that the Next-Gen cars are stiffer than the previous models, resulting in drivers experiencing more severe impacts to their heads. However, this is not entirely accurate. In reality, the cars have actually become much safer, despite the alarming crashes that have occurred in the NASCAR community in recent months.
All drivers have emerged unharmed with only minor injuries, from brutal head-on crashes into the wall to the recent 10-flip wreck of Ryan Preece in Daytona. The Next-Gen cars have successfully passed all tests, proving NASCAR's resilience.
The statement "It's a Brand Thing" by Denny Hamlin is a way of distancing himself from Michael Jordan and others involved in NASCAR, who have been criticized for their association with controversial policies.
In conclusion, the advanced Next-Gen cars have similarities to their Supercar Racing counterparts in Oceania, which may attract more international drivers to join in competition.
The following is the outstanding safety system implemented in these cars, which includes a protective roll cage, a strong and sturdy chassis, and a modular design that effectively absorbs impact energy rather than transferring it directly to the driver. With the introduction of Next-Gen cars, NASCAR has made significant progress in prioritizing safety and cost-effective development while maintaining the versatility to race on a variety of tracks. Despite being unpopular among many, it must be acknowledged that these Next-Gen cars represent a significant advancement in technology and innovation.
The post NASCAR's Next-Gen Platform Is a Level Up for the Sport, Here's Why appeared first on EssentiallySports.