The 11th PropertyGuru Philippines Property Awards recognizes Robinsons Offices for its outstanding performance.
Robinsons Land Corporation, the real estate development arm of the Gokongwei Group, was named Best Developer in the Philippines for the second consecutive year at the 11th PropertyGuru Philippines Property Awards. They received 14 category wins and four Highly Commended citations, solidifying their impressive standing in the industry.
In addition to their wide range of commercial and residential properties, hotels and resorts, and integrated developments, Robinsons Offices is a key player in the Business Process Outsourcing (BPO) industry in the country, and their contribution was crucial in RLC's consecutive wins for "Best Developer" at this year's awards.
Best Office Development
The PropertyGuru Philippine Property Awards are held annually to acknowledge exceptional real estate developers and projects, establishing the standard for excellence in the industry.
Robinsons Offices' Senior Vice President and Business Unit General Manager, Jericho P. Go, reveals that in the category for Best Office Development, Robinsons Offices stood out to the judges for their GBF Centers 1 and 2. These two towers, located in RLC's Bridgetowne Destination Estate, showcase a high-quality office building development with 30 stories each. According to Mr. Go, these buildings represent the future of workspaces in the country, boasting sophistication, sustainability, and functionality. The towers' notable design, featuring reflective glass panels arranged in geometric patterns, adds a striking visual aspect to the rapidly evolving C5 IT corridor.
As companies, particularly BPOs, continue to expand and on-site work resumes, GBF Centers 1 and 2 are in a prime position to drive economic growth. This aligns with Robinsons Office's dedication to creating job opportunities and enhancing the economy.
Mr. Go acknowledges that economic development can coexist with sustainability. In accordance with RLC's sustainability objectives, the office building features a rainwater collection system and energy-efficient LED lighting, reducing its environmental footprint. Additionally, the building promotes sustainable living by providing bike racks and electric charging stations for electric cars, making it easier for the community to adopt greener habits.
The top development for a BPO office.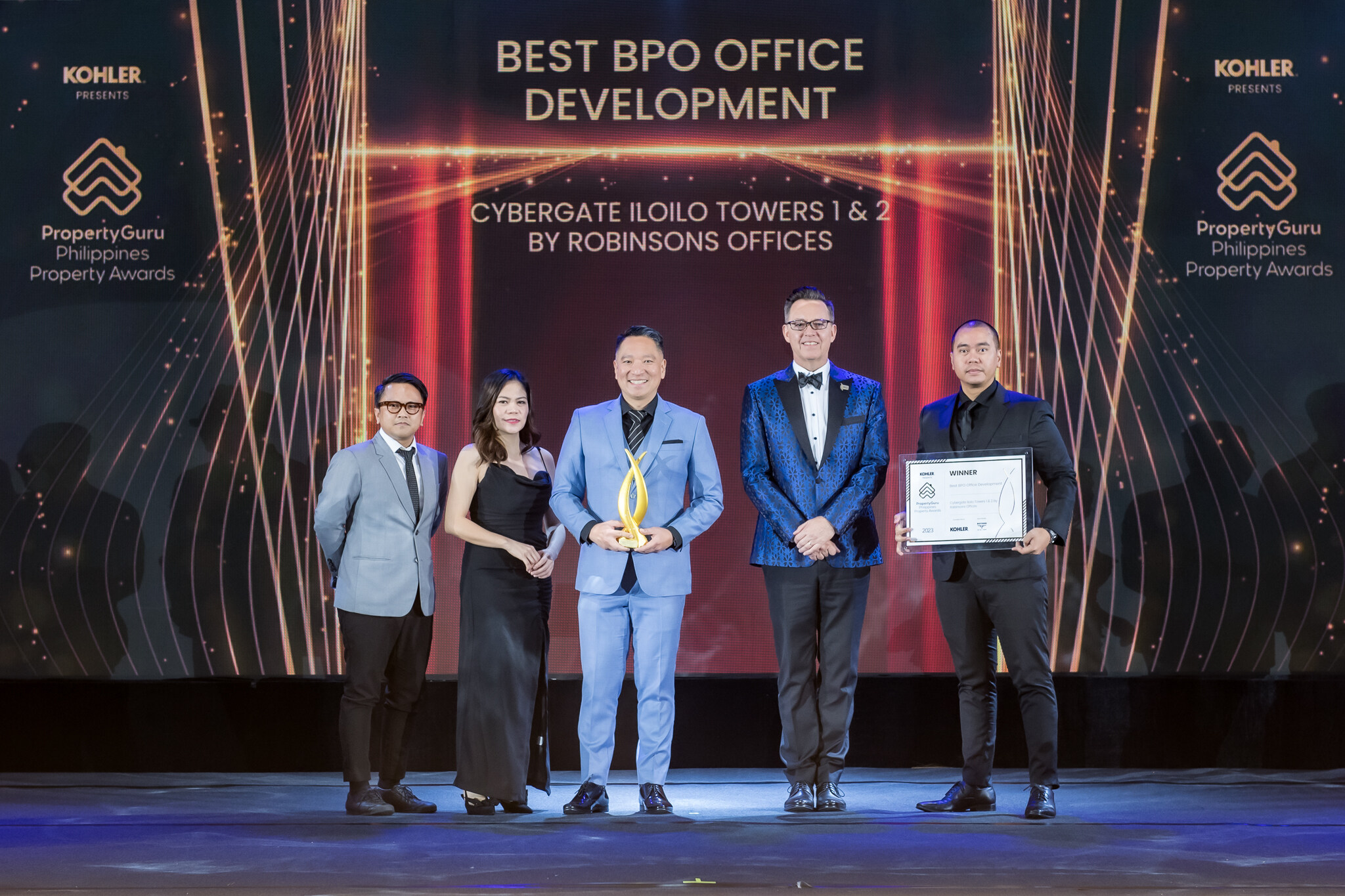 The Cybergate Iloilo Towers 1 and 2 are situated in Pavia, Iloilo and serve as excellent models of modernity, environmental consciousness, and appreciation for the surrounding community. According to Mr. Go, the choice of Pavia is due to its rapid growth as a municipality, located just north of the bustling Iloilo City and with convenient access to the airport. RLC has constructed top-notch office buildings in this area, specifically designed to meet the diverse demands of multinational, BPO, IT, and traditional companies.
The main focus of Cybergate Iloilo's layout is efficiency, featuring open office floors without columns to enable tenants to make the most of the space and implement efficient office designs. It also prioritizes inclusivity and accessibility by providing gender-sensitive amenities such as restrooms, ramps, and elevators. The building's exterior showcases its architectural excellence with curtain wall glass and aluminum accents that reflect Iloilo's impressive growth. Inside, the design pays tribute to the city's cultural heritage, drawing inspiration from local fabrics like Hablon and the vibrant Dinagyang Festival.
Cybergate Iloilo, in addition to its well-designed layout, reflects Robinsons Offices' dedication to developing provincial areas, alleviating city overcrowding through reverse migration, and generating job opportunities for locals. This contributes to the growth of the local economy and is in line with a larger goal – a future where all Filipinos can thrive within their own communities, without having to search for opportunities overseas. By taking these actions, Robinsons Offices is playing a role in ensuring that families can prosper and communities can thrive, right in their own country.
Top Honors for Sustainable Development (Runner-Up)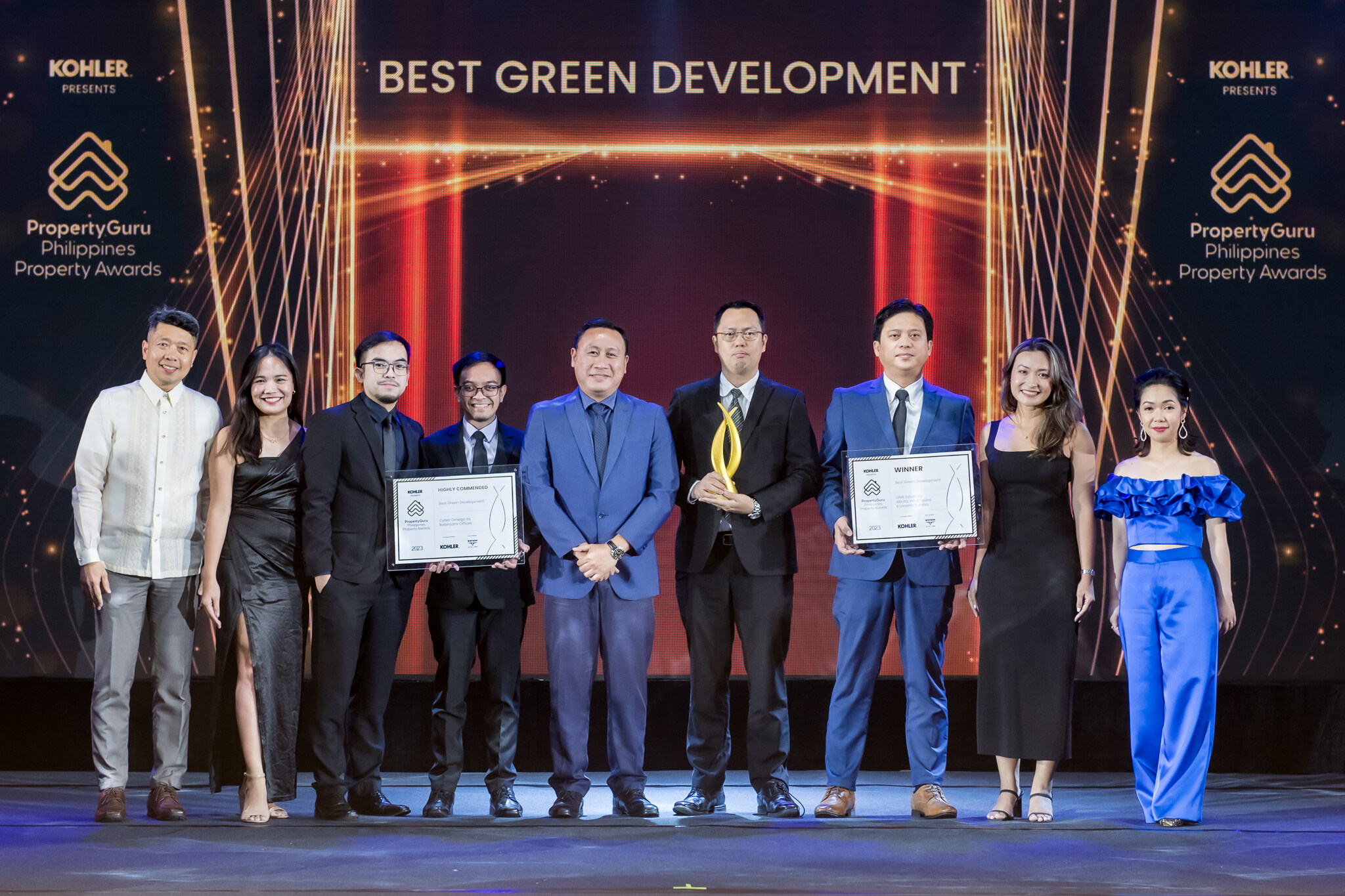 Located on Pearl Drive in Ortigas Center, Cyber Omega by Robinsons Offices is a top-notch office building that is PEZA-certified. It is the perfect option for companies due to its strategic position near a university and a bustling residential and commercial area.
Cyber Omega is proud to have received a "Highly Commended" recognition in the Best Green Development category of the PropertyGuru Awards. This is due to their dedication to sustainability and conserving energy. Through the use of resource-efficient design and green building features like precast panels and energy-efficient windows, Cyber Omega has managed to reduce energy costs by 24%, water usage by 55%, and embodied energy in materials by 50%, earning them EDGE certification. These savings are not just numbers, but are equivalent to covering 11 football fields, powering 400 Philippine households annually, providing clean water for over 17 million Filipinos for a year, and filling up approximately 24,000 cars. EDGE, also known as Excellence in Design for Greater Efficiencies, is an internationally recognized green building certification system developed by the International Finance Corp., a member of the World Bank Group, with a focus on measurable sustainability.
building also features
The building's design incorporates environmentally friendly elements and emphasizes adaptability and efficiency through spacious, unobstructed areas for tenants. It also ensures accessibility for individuals with disabilities and includes the following features:
Providing bike parking and showers encourages people to use environmentally-friendly transportation and promotes a culture of sustainability in the workplace. The stunning views of Ortigas and beyond showcase the balance between nature and the busy cityscape below.
Commitment Towards Nation-building
RLC was honored with 18 awards and commendations at the 11th PropertyGuru Philippines Property Awards, showcasing their unwavering dedication to innovation and sustainability. Mr. Go concludes that Robinsons Offices is committed to developing premium, sustainable, and future-ready offices as part of their contribution to nation-building. The company expresses gratitude to PropertyGuru for acknowledging their developments as tangible drivers of economic and social growth. The GBF Centers, recognized as the Philippines' Best Office Development, is poised to attract top IT-BPM and multinational companies, generating much-needed job opportunities to help revive the economy. Additionally, Cybergate Iloilo Towers 1 and 2 in Pavia, awarded Best BPO Office Development, bring employment opportunities from the thriving IT-BPM industry to rural areas, aiming to alleviate urban congestion, encourage reverse migration, and promote family unity. Lastly, Cyber Omega's highly commended recognition as Best Green Development aligns with their mission to create a greener and brighter future for current and future generations.
Robinsons Offices has achieved a successful collaboration, illuminating their ability to design spaces that not only revolutionize current work environments, but also pave the path towards a more thriving, diverse, and environmentally-friendly tomorrow.
---
BusinessWorld's sponsored section, Spotlight, gives advertisers the opportunity to increase their brand's visibility and engage with BusinessWorld's audience by giving them the ability to share their stories on the BusinessWorld website. To learn more, send an email to [email protected].
Come join us on Viber by clicking the link below to receive more updates and subscribe to BusinessWorld's titles. You can also access exclusive content through our website, www.bworld-x.com.