The vivo V29 5G phone combines stunning design with enhanced performance through Aura Light Portrait 2.0. Its chic appearance truly unleashes brilliance.
vivo, a global smartphone technology pioneer, proudly introduces its latest marvel, the V29 5G, featuring a massive 12GB RAM and 512GB ROM. This stunning addition to the V Series raises the bar for smartphone innovation with its flagship-level Aura Light Portrait 2.0.
The vivo V29 5G allows you to capture and cherish every moment with a touch of elegance. Featuring Aura Light 2.0 and Smart Color Temperature Adjustment, it provides a captivating user experience and seamlessly adjusts to your daily needs.
The master of your personal lighting.
Recognizing the crucial importance of light in capturing stunning visuals, the vivo V29 5G features the biggest Aura Light 2.0 to date in the V Series, guaranteeing even lighting, eradicating shadows, and improving skin tones.
The vivo V29 5G takes visual enhancement to the next level with its comprehensive Aura Light 2.0. It includes the innovative feature of Smart Color Temperature Adjustment, which enables the phone to adjust to different color temperatures in different environments.
If you happen to be surrounded by lively nightclubs, bright streets illuminated by neon lights, or charming bars, the vivo V29 5G will seamlessly adapt its color temperature to blend in with the environment, essentially becoming your own personal lighting expert.
In poorly lit settings, subjects are softly lit, showcasing their individual features. The outcome is vibrant and crisp portraits with a captivating ambiance that enhances every photograph.
Capturing every smile with grandeur

Upgrade your photography with a 50MP high-definition camera, a 92° wide-angle front camera, Auto Focus, and Electronic Image Stabilization.
The increased range of vision and accurate focusing abilities free your pictures from the constraints of regular self-portraits, effortlessly capturing more genuine smiles without any distortion.
The vivo V29 5G allows you to express your creativity by capturing stunning group photos and videos that exude authenticity and brilliance, preserving enchanting memories.
"Discover the allure of the evening"

The vivo V29 5G is particularly strong in capturing night photos thanks to its advanced 50MP OIS Ultra-Sensing Camera. It produces clear and steady images even in dim lighting.
@vivo_philippines We have tested the night mode feature on the vivo V29 5G and the results are impressive, even without aura light! Imagine how much better it will be with aura light. Stay tuned for future content updates!

The hashtag #vivogoals, #vivoSmartphones, #vivoV29Series5G, and #vivoLoveAndPassionSpotlighted are featured in the original sound by vivo_philippines.
Anticipate exceptional image clarity and truly fulfilling outcomes, without the expensive cost typically linked to professional photography seamlessly incorporated into a mobile device.
Additionally, the V29 utilizes cutting-edge technology to capture high-quality night-time videos. With Ultra Stable Video, OIS and EIS work together to ensure smoother and sharper footage of different night settings.
Additionally, the Super Night Video function utilizes advanced algorithms and strong stabilization abilities to overcome the difficulties of capturing videos in dimly lit environments.
The vivo V29 5G enhances your night photography by capturing stunning details with flawless beauty.
Your ultimate one-stop vlog-maker

The V29 has been skillfully designed to give users the tools they need to excel at vlogging and creating social media content. The Micro Movie function streamlines the video creation process by providing a range of pre-made templates and a professional editing assistant, eliminating the need for additional editing applications.
Revamp sophistication with enduring grace.

Select from two opulent shades, Magic Maroon and Starry Purple, each providing an exclusive high-end experience.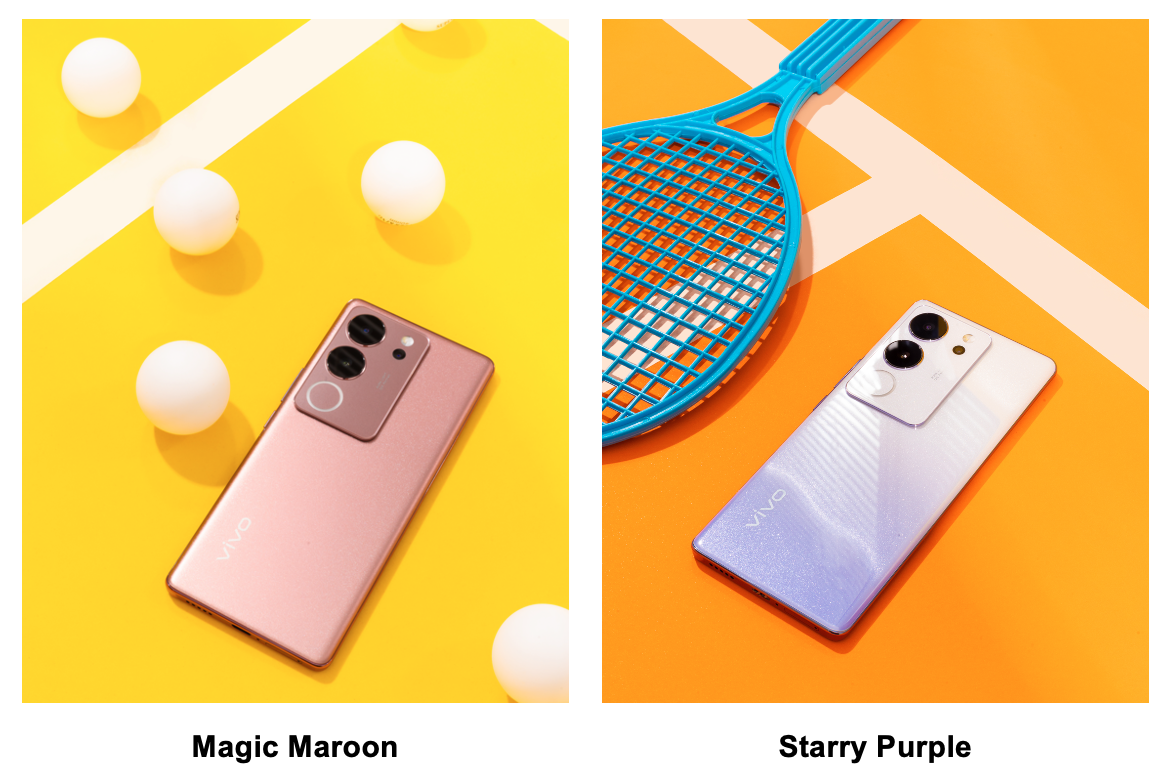 The Magic Maroon edition is crafted using a unique Color Changing Fluorite AG Glass and nano-scale photoetching technique, delivering a soft touch and unique premium quality that transitions gracefully between light and shadow with its photochromic color-changing effect under sunlight or UV light.
The Starry Purple edition, inspired by the Milky Way and twinkling stars, transcends the ordinary. The Innovative 3D Starry Craft technique creates a glittering purple galaxy like no other, while the interplay of light on the back panel ensures it shimmers like the night sky with two milky ways and twinkling stars.
The V Series has never had a better screen than this one.

The vivo V29 5G boasts a striking 120Hz 1.5K AMOLED display and a 6.78″ 3D curved screen, providing users with captivating visuals. Its impressive resolution of 1.5K and pixel density of 452 PPI bring every detail to life with incredible accuracy.
You will also experience a mesmerizing display with the V29, featuring 1.07 billion colors and a DCI-P3 color range equivalent to that of a cinema.
Additionally, the vivo V29 5G puts a focus on promoting eye health and has attained three SGS certifications for professional-grade eye protection, demonstrating a dedication to promoting visual wellness.
Delivering unrivaled performance

The vivo V29 5G utilizes the advanced Qualcomm Snapdragon® 778G mobile platform and Memory Booster (12 GB RAM + 8 GB Extended RAM) to deliver superior performance. With its Ultra Large VC Bionic Cooling System, users can expect a seamless experience while gaming or streaming movies.
Using 80W FlashCharge and a 4600mAh battery, it can quickly charge your phone. In only 18 minutes, your battery will go from 1% to 50%, ensuring your phone is dependable and prepared for extended use.
The vivo V29 5G is equipped with IP54 certification, making it suitable for use in wet and dusty environments. Even if you are caught in a surprise rainstorm or relaxing by the pool, the vivo V29 5G remains durable and resistant to splashes and dust, as long as it is used under normal conditions.
Supported by more than 60 laboratory tests for reliability, the vivo V29 5G ensures a stress-free usage in all circumstances.
website.
Get your hands on one now by choosing between two storage options: 12GB + 256GB for the price of P24,999 or upgrade to 12GB + 512GB for only P26,999. Buy it directly from the official vivo Philippines website. website such as Amazon
You can also purchase items on Amazon or other popular online shopping websites. like Shopee, Lazada and TikTok
, in addition to being available at brick-and-mortar locations nationwide.
The vivo V29 5G can be purchased through Home Credit with 0% interest, starting at a monthly rate of P1,002 for the 256GB ROM version and P1,082 for the 512GB ROM version.

Keep yourself informed about the most recent news and announcements from vivo Philippines by following their updates.Facebook, Instagram, YouTube, X, and TikTok.
---
Spotlight is a sponsored section on BusinessWorld that lets advertisers increase their brand visibility and engage with BusinessWorld's readers by giving them the ability to post their stories directly on the BusinessWorld website. To learn more, please email [email protected].
Come join us on Viber using the link https://bit.ly/3hv6bLA for the latest updates and to subscribe to BusinessWorld's titles. You can also access exclusive content through www.bworld-x.com.