The InCharge 6-in-1 cable has the capability to provide power to a wide range of devices. Currently, it is available for only $16.97.
Macworld
Is your phone charger on your work desk? Or is it on the passenger seat in your car? Could it possibly be your tablet cable? Hold on, if that cable is for your tablet, what is it for the drone? You probably understand the situation.
Instead of dealing with a confusing mess of specific cables, makeshift connections, and unnecessary cords from years ago, the InCharge® X Max 100W 6-in-1 Charging Cable offers a speedy and efficient charging solution for almost any device. From September 23 to 30, you can purchase this versatile charger for just $16.97, originally priced at $39.
Looking to switch from a USB port to either Lightning or USB-C to micro-USB? This multifunctional cable offers six different connection choices and measures five feet in length. See the remaining options listed below:
USB to USB-C
USB to Micro-USB
USB-C to USB-C
USB-C to Lightning
This cable has numerous connection ports, making it suitable for charging your iPhone, Android phone, laptop, tablet, smartwatch, and any other device that requires a lot of power.
After being connected, the InCharge® X Max automatically determines the necessary power for your device and delivers it at the highest possible speed.
This cable is capable of providing USB-C to USB-C charging at a rapid rate of 100W and supports fast charging for iPhones up to 18W. Unlike other cables that only supply power, this one also allows for data transfers at speeds of up to 480Mbps.
Crafted using aramid fiber, braided copper wires, TPU cable guards, and nylon reinforcement, this durable charger is a hit with users, who have given it a rave 4.9 out of 5-star rating. One verified buyer even wrote, "Super useful to have so many options in a single cable. In fact, I'll be buying one more so that I have it conveniently available both at my desk and in my bag."
Enhance your charging process with this all-encompassing charger.
Purchase the InCharge® X Max 100W 6-in-1 Charging Cable for only $16.97 until September 30 at 11:59pm Pacific Time.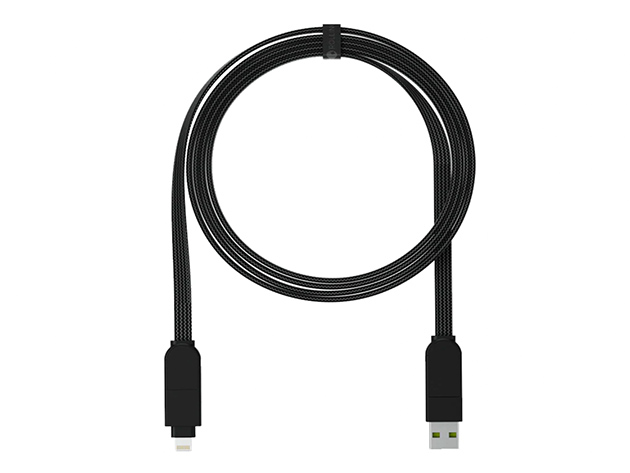 The InCharge® X Max is a 6-in-1 charging cable with a maximum power output of 100W.
You will only be charged $16.97 every time.
Prices may be altered.
Accessories