Shang Properties has been honored with three awards at the 11th PropertyGuru Philippines Property Awards.
Shang Properties, a top developer in the luxury real estate market, was honored with three awards at the PropertyGuru Philippines Property Awards on September 22, 2023. The event took place at Shangri-La at The Fort in Manila.
Decided by an independent panel of expert judges, PropertyGuru Philippines Property Awards annually celebrates the finest in real estate from the country's urban and provincial property market. In the 11th edition of said event, Shang Properties was awarded as the Best Ultra Luxury Condo Development in Metro Manila and Best Condo Development in the Philippines for Aurelia Residences (under Shang Robinsons Properties, Inc., a joint venture between Shang Properties and Robinsons Land Corp.) and Best High End Condo Development in Metro Manila for Shang Residences at Wack Wack.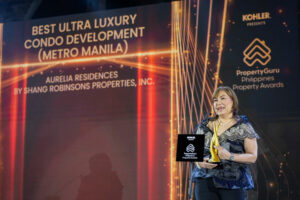 "We are incredibly proud to have our properties acknowledged by the top property technology company in Southeast Asia. This serves as evidence of our company's goal to offer high-end products that are carefully crafted with exceptional services and amenities tailored to meet the needs of our clients," states Wolfgang Krueger, Executive Director of Shang Properties.
Shang Properties' successes qualify them to move forward to the 18th Property Guru Asia Property Awards Grand Final on December 8, 2023 in Bangkok, Thailand. They will be contending with other countries in Southeast Asia, as well as China, Japan, India, and Australia.
Top players in the high-end housing market.
Shang Properties has recently introduced their latest property, Laya by Shang Properties, in Pasig City as a testament to their ongoing dedication to providing exceptional spaces and experiences. Laya is a contemporary canvas, meticulously crafted for self-expression, fostering community and facilitating cultural enrichment. Boasting a variety of unit options and sizes, Laya allows owners the autonomy to design a truly unique space of their own.
Earlier this year, the real estate developer, in collaboration with Robinsons Land, introduced a new property in Bridgetowne, Pasig City. Named after the Filipino term for imagination, Haraya Residences is a luxurious residential complex featuring two striking towers that creatively redefine contemporary living with its distinct architecture, floor plan, and range of indoor and outdoor facilities – all meticulously selected for the most sophisticated city residents.
For
For a full list of the winners and additional updates, please check out Asia Property Awards on their website asiapropertyawards.com, as well as on their Instagram and Facebook accounts @asiapropertyawards. You can also follow them on X (formerly known as Twitter) at @asiapropawards.
www.shangproperties.com
Please visit the website www.shangproperties.com to gather more information about Shang Properties.
www.shangproperties.com and fshangproperties
You can stay connected with Shang Properties by following its official social media accounts: @shangproperties.ShangProperties on Instagram and Facebook, @ShangPropertiesOfficial on YouTube1st July 2021
"Shang Properties will join the partnership on July 1st, 2021."LinkedIn.
---
The sponsored section of BusinessWorld, called Spotlight, gives advertisers the opportunity to boost their brand and engage with BusinessWorld's audience by publishing their stories directly on the BusinessWorld website. To learn more, please email [email protected].
Come join us on Viber by visiting https://bit.ly/3hv6bLA for the latest updates and to subscribe to BusinessWorld's publications. You can also access exclusive content through www.bworld-x.com.