Platforms in Asia that bring together food and beverage offerings.
The annual event, Food Ingredients Asia and Vitafoods Asia, brings together the food and beverage and nutraceutical industries in Thailand.
By Adrian Paul B. Conoza, Special Features and Content Editor
All the food, drinks, medicines, and other edible items we consume are composed of various ingredients and components. Some of these enhance the overall quality of the product, others serve as substitutes for traditional ingredients, some offer beneficial nutrients for our bodies, and some improve our enjoyment of these products through taste or appearance.
Such suppliers comprise the wide food and beverage (F&B) and nutraceutical industries, big industries in the world's largest continent as well as in the Southeast Asian region. Testifying to this vastness are two trade exhibitions that were simultaneously held in Bangkok, Thailand last month.
The event called "Fi Asia Thailand" and "Vitafoods Asia" were held from Sept. 20 to 22 at the Queen Sirikit National Convention Centre (QSNCC). These events are considered as the top events for the F&B and nutraceutical communities in Southeast Asia, occupying a total of 45,000 square meters of space.
Rungphech Chitanuwat, the regional portfolio director for ASEAN and the country general manager for the Philippines at Informa Markets, stated that the goal of Fi Asia Thailand and Vitafoods Asia is to facilitate easier connections between buyers and suppliers at one central location. The events also aim to showcase the newest developments and trends in the F&B and nutraceutical sectors.
The goal is for producers to obtain ingredients by purchasing them at the show. However, if attendees do not have a business but do have agricultural products, they can still attend the show to observe what is happening with their commodities. This statement was made to Philippine media who were covering the exhibits.
Dr. Chutima Eamchotchawalit, the leader of the Thailand Institute of Scientific and Technological Research, pointed out that in addition to creating networking opportunities, the two exhibits also facilitate the exchange of knowledge and innovative ideas within the industries. This also enables exploration of potential collaborations to achieve sustainable development goals.
During the opening ceremony for the two events on September 20th, it was stated that Food Ingredients Asia and Vitafoods Asia serve as a platform for exchanging scientific knowledge, showcasing technological advancements, and fostering connections among researchers, professors, entrepreneurs, and individuals interested in food and nutraceutical product development.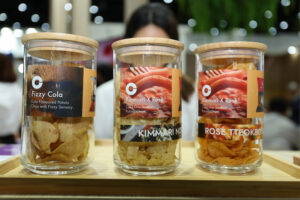 Innovation-driven potential
Additionally, Ms. Chitanuwat mentioned that both occasions provide Southeast Asia with a chance to demonstrate the potential of its resources and how they can be utilized as ingredients.
She stated that most of our countries in the ASEAN region rely on agriculture and have a wealth of resources. Our focus should be on promoting and utilizing these resources, and this is where ingredients can be beneficial.
She stated that in order to increase the value of our commodities, we must focus on research and innovation.
The Minister of Higher Education, Science, Research, and Innovation of Thailand, Supamas Isarabhakdi, emphasized the potential for F&B and nutraceutical industries to utilize research and innovation in order to better meet the needs of consumers.
"Science, research, and [technology] are becoming more important for today's food production and development," Ms. Isarabhakdi said during the opening ceremony, adding that through these three the food industry can be transformed from merely manufacturing mass products to innovating products that cater to consumer's transforming needs.
According to Manu Leopairote, the head of Informa Markets Thailand, it is important for these industries to adapt and be creative in order to keep up with changing consumer habits that prioritize health, safety, and sustainability.
"According to the speaker, ingredients used in food and nutraceuticals have a direct influence on the overall quality, safety, and cost of the final product. These ingredients should not only benefit manufacturers, but also consumers by decreasing levels of fat and sugar while maintaining desired taste and texture."
Expansive platform for F&B ingredients
Fi Asia Thailand brought together more than 600 exhibitors from various industries, including food, beverage, natural, and health ingredients. The event covered a wide range of sectors such as color, bakery, eggs, dairy products, edible fats and oils, emulsifiers, firming agents, food acids, and flavorings and seasonings. The exhibition took place on the ground floor of QSNCC.
Notable participants at Fi Asia Thailand include a company that produces non-dairy creamers for drinks such as milk tea and coffee, a rice flour maker with a product that promises to maintain the crunchiness of fried chicken for four hours, and a business that has created emulco, a food flavoring, coloring, and emulsifier blend that is suitable for use in bakeries and confectioneries.
One of the main attractions at Fi Asia Thailand was the dedicated pavilions showcasing specific segments of the industry, including the Beverage Ingredients (Bi) Pavilion, Natural Ingredients (Ni) Pavilion, and Health Ingredients (Hi) Pavilion.
There were also booths displaying goods from particular regions, including China, Japan, Malaysia, Thailand, India, Indonesia, Taiwan, Ireland, Europe, and the United States (US).
In addition to the primary showcase, Fi Asia also organized various technical talks and conferences by its vendors and collaborators, each focusing on current developments, methods, and advancements in the food and beverage industry.
The spotlight was also directed towards startups in Thailand, as both student-led and small and medium enterprises participated in Fi Asia's Start-up Innovative F&B Products Competition. One of the winners of the competition is a product called MUU, which is a cow's milk alternative made without the use of actual cows. MUU uses a process of fermenting unique microbes and purifying them to create milk proteins for dairy products.
Displaying the expanding market for nutraceutical products.
Vitafoods Asia, located at the lower level of QSNCC, showcased the expanding nutraceuticals market in Asia. This market includes dietary supplements, functional beverages, and functional foods.
The showcased display focused on four main areas of the nutraceutical industry – ingredients and materials; contract production and private labeling; services, equipment, and packaging; and branded final products – featuring more than 400 exhibitors.
Some of the noteworthy companies at the exhibition are a supplier that offers excipients and coatings suitable for labels, used in tablets and capsules for natural supplements; another that converts raw materials into bioactive collagen peptides, which have many uses for skin, joint, and bone health; and a company that makes an extract from the ashwagandha herb, which has been scientifically tested and shown to reduce stress, enhance cognitive function, improve sleep quality, and boost endurance.
In addition to these booths, the Main Stage and NutraFocus booths hosted sessions that delved into the current trends and advanced ingredients in the nutraceutical field. There were also specific areas dedicated to particular ingredients and innovations, including the Omega-3 Resource Centre, Probiotics Resource Centre, New Ingredients & New Products Zone, and Innovative Health Hub. Various international pavilions were also present, showcasing countries like the US, Belgium, Japan, Spain, Taiwan, Korea, and China.
In the Asia-Pacific region, Thailand is known as one of the largest markets for nutraceuticals. The Thai Ministry of Commerce reported sales of $3.5 billion in the nutraceutical industry in 2019. Looking at the entire region, it is anticipated that nutraceuticals will experience a compound annual growth rate of 7.5% from 2020 to 2025, reaching a value of $140 billion. The top three consumer markets in the region are expected to be China, Indonesia, and Japan.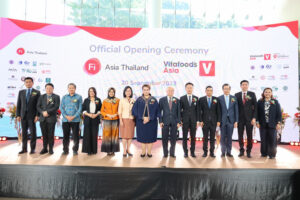 The position of the Philippines in the global market.
Both the government and the private sector represented the Philippines as visitors in both exhibits.
The government's delegation was headed by Blesila A. Lantayona, the undersecretary of the Department of Trade and Industry's Regional Operations Group. She was also present at the opening ceremony along with other important officials from Thailand and Asia.
After the ceremony, she revealed that the Department of Trade and Industry (DTI) is investigating how the two trade events can positively impact the Philippine food industry. This includes suppliers of raw materials and buyers who are interested in expanding their network of suppliers.
Ms. Lantayona stated that it is essential to assess the actual needs of the market and identify potential opportunities for our MSMEs.
The representatives from the Philippines were also seeking out technologies presented at the events that could be implemented in the country. Specifically, they were interested in methods that could convert raw materials into products without sacrificing their quality (such as preserving the green color of okra even after it has been dried).
"[Thailand has made] significant progress in the fields of science, technology, and innovation, utilizing natural resources, especially food, to create materials with added value or final products," she noted.
She stated that although the technology is currently available, various issues such as obtaining it, expense, and accessibility are impeding its implementation in the country.
Executives from Filipino pharmaceutical businesses were also in attendance. Benson Sian, the CEO and creator of Nattural Quality Corp., expressed that the showcases motivate companies like theirs to evaluate their performance in light of the current industry and reconsider how they can better position their products to meet the needs of their target consumers.
On the first day, Mr. Sian expressed his desire to gain knowledge about our position compared to other products through this gathering.
According to Mr. Sian, Filipino brands in their industry must strive to effectively position their products in order to be competitive in the global market.
"We possess an asset. There are more than 10 million Filipinos living abroad," he added. "They are not only Overseas Filipino Workers (OFWs). They hold decision-making positions; they have influence and could potentially promote Filipino products. This is something we can take pride in."
Mr. Sian believes there is opportunity in our local industries, such as business process outsourcing. He sees potential for Nattural to collaborate with these industries in promoting health supplements that can improve lifestyles and ultimately help professionals extend their careers.
Mr. Sian emphasized that one's health greatly impacts the longevity of their career.
The upcoming Fi Asia event will take place in Jakarta, Indonesia next year, while the following edition of Vitafoods Asia is planned to be held in Thailand.